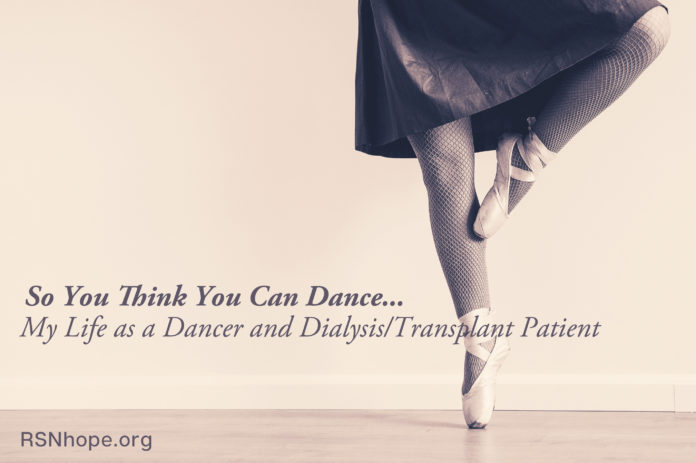 At 4'11" and 98 pounds, I'm petite, and have been all my life. So, needless to say, when I tell people that I have four kidneys and two pancreases, they are shocked. But, really, I'm very fortunate. I'm alive today because of the support and love of my mother and father and the expertise of amazing medical professionals.
Baby Ballet to Professional
I don't have very many memories of my early childhood. I am able to remember very clearly, though, my first day of Baby Ballet class at age 3. My mother dressed me in my pink leotard, tights and ballet slippers and drove me to the dance studio. We entered the studio and Miss Jean greeted us at the door. I can still see her in her dance attire, her dark hair piled on top of her head. From the first plie', Miss Jean became my idol, and I was bitten by the dance bug. From that point on, dance became an important part of my life.
I continued dancing throughout my school years, taking dance classes, performing in Community Theater and teaching ballet, jazz and tap to younger dance students.   When it came time to decide on my future, the natural choice was to continue with dance. I was accepted at Point Park University in Pittsburgh, renowned for its performing arts department. During my college years I performed with different dance companies, and continued dance studies in New York City. I performed at Busch Gardens in Virginia and was offered a job in Las Vegas, but my dad said, "no way!" Even though I never danced in Las Vegas, I do have students who went on to dance in both Vegas and Broadway.
Bitten by the "LOVE BUG"
My second week at Point Park, while attending a college party, a very tall (6'4"), attractive man began talking to me. With his dark wavy hair, easy manor and warm smile, I was bitten again-this time by the "love bug." I immediately knew Jim Ney was the man I would marry. He apparently felt the same way, because one month later he asked me to marry him. He took great interest and pride in my dancing – he was my biggest (literally) cheerleader!
Diabetes Strikes
In 1975, as a first-semester senior dance major at Point Park, I was diagnosed with type I diabetes, which I had contracted from a virus. It was around Christmas time. I was a soloist with the college dance company and very busy between classes, rehearsals and performing. I was tired and run down and puzzled as to why I was drinking so many fluids and going to the bathroom every half hour. Of course, those were symptoms of diabetes.
When I was diagnosed that December, I was shocked. How could this happen to me? I was never sick! I was determined not to let diabetes run my life, so I managed my disease with insulin and a proper diet. I graduated with a BA in Dance, began teaching Jazz dance at Point Park University and Indiana University of Pennsylvania, and I was going to marry the man I loved! My life was perfect!
Tragedy Strikes
Two weeks before our wedding, Jim and I spent a wonderful day together. We went to get our marriage license and he made the final arrangements for our Honeymoon night. That night when Jim left my house to return to his home in Michigan he told me two weeks was too long to wait to start our life together.
Early the next morning I received a phone call from Jim's mother. "Stephanie, there's been a car accident. Jim is injured, and it's serious. You need to get here right away".   My parents knew I was in no shape to drive, so they immediately drove me to the hospital in Michigan where Jim had been taken. When I walked into the hospital, I was told that Jimmy had died 30 minutes before I had arrived. My life was turned upside down. I stopped caring for my diabetes, and consequently for myself.
The First Transplant
Throughout the next several years, as a result of the diabetes, my health deteriorated. My vision was decreasing, I was getting numerous bone fractures from my dancing, and I was diagnosed with Chronic Kidney Disease (CKD). I was sure that going on dialysis would be my death sentence.   On my first visit to the nephrologist I told him, "Tell me when it's time for me to start dialysis, because I'll sell my car, take a cruise, and go with a smile on my face." The Doctor looked at me and said, "Aren't you being a little melodramatic?" The reality is dialysis kept me alive.
Two years later, I went to the beach with my parents. I was actually feeling sicker every day I was there and by the time we went home, I was lethargic and sleeping most of the time. My parents immediately took me to the hospital when we got home, and I have no memory of anything until I woke up in ICU on dialysis. At that point I realized that I had to give up my dance career – a devastating realization of how sick I had actually become. I was hospitalized 12 times the year before my first transplant.
I began in-center hemodialysis three times a week. After three months the doctors realized that I was not getting adequate dialysis, so I was switched to peritoneal dialysis. In November of 1990, I was in another hospital when I received a call from the University of Pittsburgh Medical Center (UPMC) saying they had a kidney for me. I was taken by ambulance to that hospital and within 24 hours received a kidney and islet cell transplant. My kidney functioned perfectly and I no longer needed dialysis, but the islet cell transplant was an experimental procedure that did not work. I was grateful for the gift of transplantation, and while my health was greatly improved, I still had diabetes. This led to my second transplant, which truly changed my life.
The Second Transplant
On my birthday, February 7, 1996, I received a call from the transplant medical director. She said that she had a present for me, and wanted me to come pick it up right away. I wondered why she had bought me a present, but told her I would pick it up later that week when I came to the clinic. She then said, "Your present is a kidney and a pancreas, and you'd better come now to pick it up".
The next day I was given the greatest gift—the gift of life. Thanks to the generosity of Charlene and Don Brode, I received a kidney and a pancreas from their 14 year old son, Brad. Their son had been a passenger in a car that was hit by a drunk driver. A short time later, I wrote an anonymous letter to thank Brad's parents, and when they received it they wanted to meet me. CORE (Center for Organ Recovery and Education) arranged a meeting between us. I was thrilled to have the opportunity to personally thank the family who had made the difficult decision to donate their son's organs. We all wept, and forged a bond which, to this day, still exists.
A Second Chance at Love
It turned out to be a wonderful year in more ways than one. Not only was I alive and feeling better than ever, but 19 years after the death of my fiancé, Jim, I met and married a remarkable man, Doug Page. I had met him at UPMC the previous year. He was also a transplant recipient and along with his job at State Farm as an estimator he was volunteering at the hospital to give encouragement and support to kidney transplant patients. We only had three great years together before Doug became ill with a heart infection. After 13 months in the hospital, 8 of them in the ICU, Doug died in my arms. I considered myself fortunate to have had the time we spent together. Once again my life was turned upside down, but after my previous experiences, I knew that I could survive anything. I was determined that I was not going to let Doug's death destroy me like Jim's almost did.
Moving On
About two years after Doug's death, a friend of mine told me about a great place where she was working out named Curves. They were looking for a personal trainer. She knew that I was getting bored at my desk job, and that I was still a dancer at heart. The chance to be involved with women's fitness and health, to be teaching again, as well as moving to music sounded like a perfect fit. I applied and interviewed for the job and was hired. Five years later I'm still at Curves, and had never missed a day of work until this past spring when I had a health scare that I was afraid was the start of kidney rejection. One of the great things about working at Curves is the wonderful support and caring from the staff and the members. In fact, during that episode several ladies at Curves were getting ready to be tested to donate a kidney! Fortunately, it was not kidney rejection, but I will never forget the kindness shown.
Today I'm leading a content and busy life. I run a dance group that meets monthly, have a wide circle of friends to spend time with, enjoy traveling with family and friends, and am involved in many charitable organizations.
Giving Back
Once I began feeling better, I wanted to help others. After my first transplant, I began speaking about my experiences in order to encourage others to become organ donors. One thing led to another, and I was asked to run a support group for the National Kidney Foundation in Western Pennsylvania. I was also on the Patient and Family Executive Council for the National NKF office. Over the past seven years, I have been invited to speak in various states and Washington D.C. about CKD. I've enjoyed being involved in walks and fundraising for the American Diabetes Association. I feel most strongly about helping kidney patients to feel like they can talk to someone who knows firsthand about their fears and concerns.
About a year and a half ago I became involved with the Renal Support Network (RSN), whose goal is to instill a sense of Health, Happiness and Hope in patients. I was greatly impressed with Lori Hartwell, the kidney patient who founded RSN in 1993. RSN keeps growing by leaps and bounds, touching countless people all over the country. The opportunity to be a part of this great organization has been totally fulfilling. I'm currently involved as a PEPP (Patients Educating Patients and Professionals) speaker, a weKAN member, and a HOPEline operator. Since I've been a part of RSN, I've learned a better way to help others, gained more knowledge to share with others and, most importantly, to offer hope to those living with CKD.
Mother and Father
My story would not be complete without thanking the two most important people who stayed by my side through every health and personal crisis I have experienced.   From helping with my dialysis and riding in numerous ambulances with me to taking care of me in their home when I was ill, my mother and father have been my greatest supporters. They were always there to pick up the broken pieces, whether physical or emotional. My father passed away in 2005, but my mother, at age 87, continues to guide and watch over me.
Conclusion
The diagnosis of kidney disease is not the end of the world, as I once thought. Had someone told me twenty years ago that I would be living a healthy, happy, normal life today, I would not have believed it possible. But it is possible, and I'm living proof of that. With the medical advances that have been made, and having support from others, kidney disease can be successfully managed.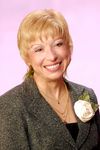 About the Author:
Stephanie Page is a former hemo, and peritoneal dialysis patient. She lives in Greenburg, PA and is currently a personal trainer at CURVES, an international  women's exercise facility. Stephanie facilitates a support group for the National Kidney Foundation (NKF) of the Alleghenies and was a member of the NKF Patient and Family Executive Council for four years.  She currently speaks on organ donation for CORE(Center for Organ Recovery and Education),and TRIO(Transplant Recipients International Organization). Stephanie volunteers for the ADA(American Diabetes Association) and is involved with RSN, as a PEPP speaker, weKAN member, HOPEline operator and she will be co-hosting a Patient Lifestyle Meeting in Pittsburgh for RSN this fall.
Web ID 437