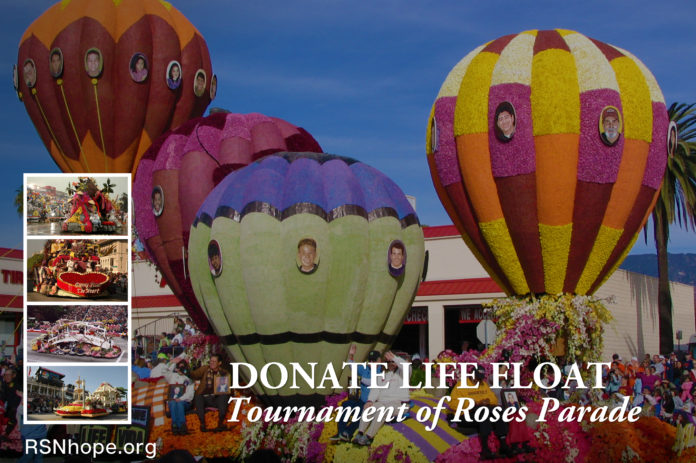 The increasing need for donated organs has motivated the transplant community to adopt creative techniques to inspire people to choose to be organ and tissue donors. Among such efforts, perhaps the most innovative and far-reaching is the entry of the Donate Life float in the world-famous Rose Parade, held on New Year's Day every year in Pasadena, Calif.
Coordinated by OneLegacy, the non-profit organ and tissue recovery agency serving the greater Los Angeles area, and supported by more than 50 organizations each year, the Donate Life Rose Parade Float has become a national tradition filled with meaning, remembrance, and a positive message that inspires around one million parade spectators. It also reaches tens of millions of television viewers and generates hundreds of media stories nationwide annually.
In the Beginning…
Guiding the evolution of the annual float campaign has been its genesis: the vision of lung recipient Gary Foxen, who, in April 2001, sent a letter to OneLegacy in which he shared his idea to inspire people to donate life by entering a float in the Rose Parade. Quite simply, he was so moved by the difference that his transplant had made in his life that he wanted to give thanks by sharing his joy via a floral parade float.
Upon receiving the letter from Mr. Foxen, OneLegacy executives saw the possibility that the representation of organ and tissue donation in such a wholesome, positive, universally loved event as the Rose Parade—alongside such "Main Street" American icons as marching bands, Kodak, and the Lions Club—would be a bold step towards making donation a natural thing to do. However, given that ours would be one of approximately 50 floats in the parade, we saw one way we could stand out: by having the most inspiring—and inspired—float in the history of the Rose Parade.
Paving the Way…
Several early decisions paved the way toward making that vision a reality:
    First, it was decided that the float would be entered under the Donate Life name so that it would represent the entire donation and transplantation community as opposed to a single organization.
    Second, the float committee required all riders to be donor family members, living donors, and recipients of organ and tissue transplants, making the Donate Life float riders truly special.
    Third, we elected to activate transplant recipients, donor families, and others touched by donation to decorate the Donate Life float, adding to the special nature of its creation.
    Fourth, a high bar was set for the float design—one that would elicit a visceral emotional response from the audience. Each year it has been a creative challenge to create a float design that presents organ and tissue donation in a celebratory yet reverent way while carrying a large number of riders.
Stage and Stars
In many ways, the float is a stage, and the float riders are the stars—the focal point of a local, regional, and national public relations campaign. While the float committee ensures appropriate representation from our diverse communities, each organization that sponsors a float rider takes responsibility for pitching their rider's compelling story and meaningful pilgrimage to Pasadena.
Press releases announcing the design and riders are timed for maximum effect, while the float website www.donatelifefloat.org offers easy access to the float participants' stories. The result: 550 media stories in four years, with the number of stories increasing an average of 43% per year.
Parade Float Themes
From year one, the float committee has used the Rose Parade theme as a starting point for creative development:
    "A Symphony of Life" and its beautiful garden bridge brought an emotional and uplifting dimension to the 2004 Rose Parade theme, "Music Music Music."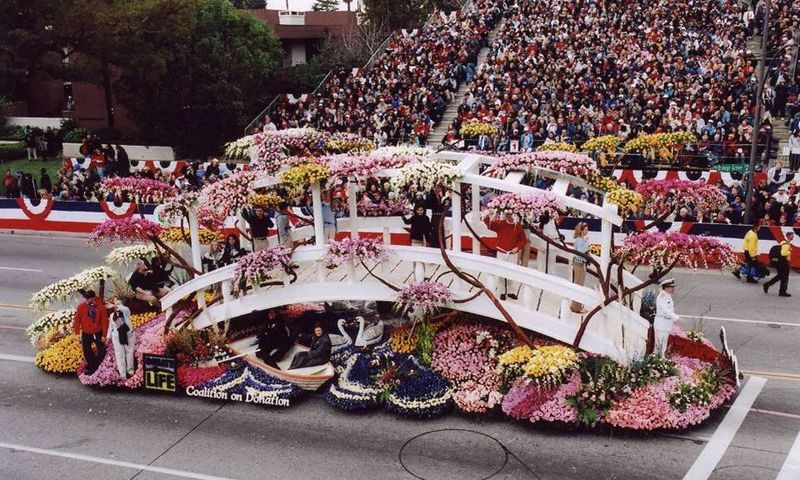 The tradition continued the next year (2005) as the parade theme, "Celebrate Family," inspired "Many Families, One Gift." A park scene with 11 pairs of float riders, including a Columbine survivor and her younger sister and the family of Nicholas Green [whose parents donated his organs after he lost his life during a family trip to Italy, inspiring a dramatic increase in organ donation in that country] told the story of how organ and tissue donation saves lives and strengthens families.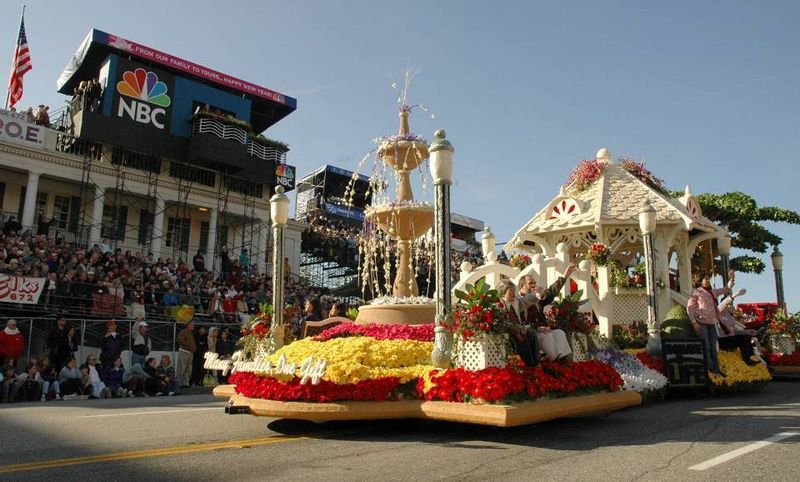 Up, Up, and Away!
The 2008 Rose Parade, themed "Passport to the World's Celebrations," inspired a Donate Life balloon festival. "Life Takes Flight" features four colorful hot air balloons rising 30 feet high above 24 riders whose lives have been lifted to new heights by organ, tissue, and blood donors. Accompanying the float on foot are eight donor family walkers connected by tether lines to floragraphs—artistic portraits created with floral materials—of their loved ones.
The balloons are adorned with 40 floragraphs of organ, eye, and tissue donors from across the country. Each balloon carries aloft hundreds of roses dedicated by families and organizations through the Donate Life float's Family Circle rose dedication program. Each rose carries a personal message of love, gratitude, and hope to a donor, recipient, or candidate in need of a transplant.
The Rose Dedication Program
The Family Circle rose dedication program is among the many inspired touches that makes the Donate Life float more meaningful year after year. Founded by donor sister Laurie Wolowic, the Family Circle program offers all families and organizations touched by organ and tissue donation the opportunity to honor loved ones by dedicating roses tagged with a personal message and placed in the Family Circle Garden, which is a living memorial on the Donate Life Rose Parade Float.
In 2007, more than 100 families made a pilgrimage to Pasadena to personally place their roses on the float, with 1,052 red roses from all 50 states and Canada gracing the garden at the front of "Giving From The Heart." In addition, hospitals from California to Ohio invited donor families to return to the site of their loved ones' donation to be presented with Family Circle certificates and replica rose vials from the Family Circle Garden.
Also notable is the float's display of the Donate Life and Done Vida logos on the float—a bilingual first in parade history. This sign of respect for the growing Latino community has resulted in dozens of media stories that inspire Spanish-speaking families to Donate Life.
"The Experience of a Lifetime"
As the Donate Life float campaign has evolved and grown, so has the degree of emotional connection to the float within and beyond the transplant community. Riders routinely call it "the experience of a lifetime." Official partners "cried when it rolled by," and one had heard "more buzz from people (who are not involved in the industry) about organ donation since the parade than I have—collectively—in years."
Those touched by donation shared these sentiments:
    "The smiles on the faces of those aboard the float touched my heart as a recipient. I envisioned myself and my donor family on that float."
    A donor mom felt "compelled" to decorate in her son's honor.
    A television viewer wrote that seeing it "really gave me a warm feeling in my heart."
    A newspaper reporter said that "it is always great to take a step back and do a story about life, love, and happiness."
These comments reflect the aspirations and goals of all those who have joined together to create the Donate Life Rose Parade Float each year. We are proud to be a part of this annual effort to increase organ and tissue donation in the true spirit of health, happiness, and hope.

About the Author
Bryan Stewart is Vice President of Communications, OneLegacy, the non-profit, federally designated organ and tissue recovery agency serving the seven-county greater Los Angeles area. He is also President of Donate Life California, administrator of the state-authorized organ and tissue donor registry, and has served as Chairman of the Donate Life Rose Parade Float Committee since 2002.
Web ID 234