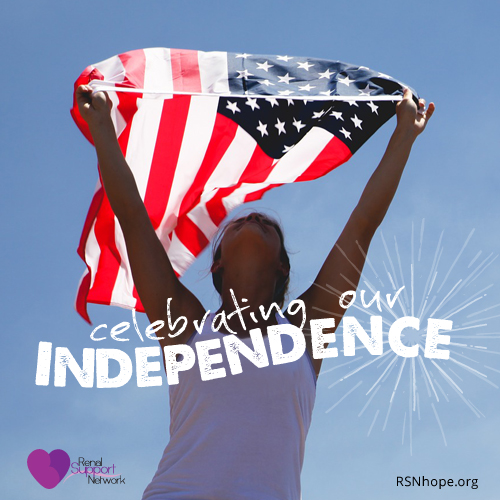 Cicero once said freedom is "the power to live as one wishes." Some people would call that anarchy, but I do think he had a point. There are many types of "independence" and "freedom": individual, spiritual, emotional, financial and political, just to name a few.  Whatever you choose to call it, the most critical is the form that allows a person to make the best decisions to control their own lives and allows him/her to stay strong in finding happiness and satisfaction.  Over the years, my definitions of personal freedom and independence have been molded and shaped to fit my status at the time.  Throughout our lives, many changes force us to keep our definitions flexible – marriage, kids, finances, etc.  One thing all people who have Kidney Disease share, besides the obvious, is being forced to question our definition of independence and freedom, and creating our own definitions to fit our daily lives and the challenges we face.
As we approach Independence Day, a celebration of declaring our freedom as a nation from the rule of Great Britain, we should consider how that action, surely difficult and faced with adversity, paved the way for the unalienable rights we have and continually fight for today in the "Land of the Free." The fact that on July 4th, we get a day off to spend time with family and friends relaxing, eating and drinking copiously (some more than others!) is proof of how our freedoms have persisted and grown.  In the same way, as CKD patients, we need to commit to our definition of freedom/independence to pave the way for a fulfilling life.
I think of myself as an "Independent Woman."  I live alone, I work for myself, I enjoy doing things on my own and prior to being diagnosed with End Stage Renal Disease (ESRD), felt in control of my freedom. Being a Type 1 Diabetic, I have always been beholden to that disease; but being diagnosed at the age of 12, I haven't known anything different for over 30 years.  Being told as a 40-yr-old adult that I would need a machine to survive was, among other things, a crushing blow to my sense of independence.
Still digesting that I had been diagnosed with a serious illness and wondering how to navigate the future, I was presented with my treatment options.  Knowing I would be starting on Hemodialysis for at least 3-6 months, I was told about the pros and cons of Hemodialysis (Hemo), Peritoneal Dialysis (PD) and Home Hemodialysis.  Doing my own research, I realized patients choose the option that best fits their lives.  They base it on many factors including health status, physical capabilities, age, work and/or family situation and perhaps most importantly, comfort level.  It seemed to me based on my younger age (for ESRD anyway!) and still active lifestyle, PD was the best option for me.  But was I missing something? A friend I met on dialysis who only has a few years on me, said he preferred Hemo.
"Why?" I inquired curiously.
He confidently responded, "Because I value being in the Center with people going through the same thing I am and knowing my caregivers.  And if I can make a difference to someone who's struggling, I want to do that."
Come to find out he's a shining star at his Dialysis Center with his consistently hopeful and uplifting spirit, everyone knows and loves him, except for a cantankerous few.  It reminded me of something I heard while volunteering years ago, "Service provides great freedom" so perhaps for that other dialysis patient, his freedom is vested in serving others; taking the burden of worrying about his personal situation off his shoulders.  I don't know that for certain, just a thought.  I do know that service to others is something I've incorporated into my life even more since diagnosis.
I maintained PD was the route I wanted to take.  I thought it would give me the flexibility to retain my daytime schedule as I knew it, allow me a little room with my diet (more liquids seemed like a gift!), alleviate some of the side effects I had experienced with Hemo such as fatigue, loss of appetite, dizziness, etc.  (although not for 'nuthin, I did still experience my fair share of side effects on PD).  In other words, give me more "freedom" in my life.  So, after six months on Hemo, I got my PD catheter and started that part of my journey.
PD worked well for me.  I even named my PD Cycler, the machine that gave me much of my independence back, "Nelson" – in honor of Nelson Mandela who worked tirelessly for his own freedom and that of his people.
I was on PD for about three years and never once regretted my decision to go that direction.  I am now three months post-transplant, I received both a kidney and a pancreas, so no more Kidney Disease and no more Diabetes.  The past few months have been challenging, amazing and illuminating.  Three months is still a short time period, so despite feeling great today (yay!) anything can happen.  I am now getting familiar with a new freedom that I still can't wrap my mind around sometimes.  No self-appointed curfew to get home in time for my daily 10-hour bedtime date with Nelson, No 3am Nelson alarms, no supply delivery every two weeks, no constant visits to my PD nurse (now I just visit her to say hello!), no insulin and many other "no mores" – It's almost surreal.
I'm going on my first out-of-town trip post-transplant in two weeks.  The idea that I don't have to pack Nelson and all my dialysis accoutrements, is a significant freedom I don't take for granted.  Although while on PD, I could in fact travel with Nelson and not have to schedule treatments at a Center where I was going, which was also a freedom that I appreciated.  Conversely, the Dialysis friend I mentioned earlier finds it much easier to just travel with a suitcase and do dialysis at a Center at his destination since there are Centers all over.  Like I said earlier, we each must decide our own definition of freedom, and there are no right or wrong answers.
I still must take meds 3x's a day without fail, go to my Transplant Clinic fairly frequently and stay vigilant with my eating habits, physical activity and various other things, but comparatively speaking, I feel like my freedom has increased exponentially.  A "healthy" person would probably feel like their freedom was seriously compromised, "Meds 3x's a day? Immunosuppressive drugs every day for the rest of my life?!? Blood work every few weeks? No thanks!" but we have to work with the cards we've been dealt.  And as I've always been throughout my life, I'm ready, willing and able to play this hand.
I hope everyone enjoys their Independence Day and it's full of sun, fun and freedom!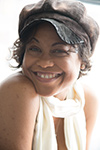 Sasha Couch is an East Coast native who has enjoyed her last 19 years in Los Angeles. She has a BA in International Relations from The University of Pennsylvania. Sasha is a kidney transplant recipient. She delights most in her volunteer endeavors, notably working with the literacy nonprofit, Reading Opens Minds.

Web ID 7022