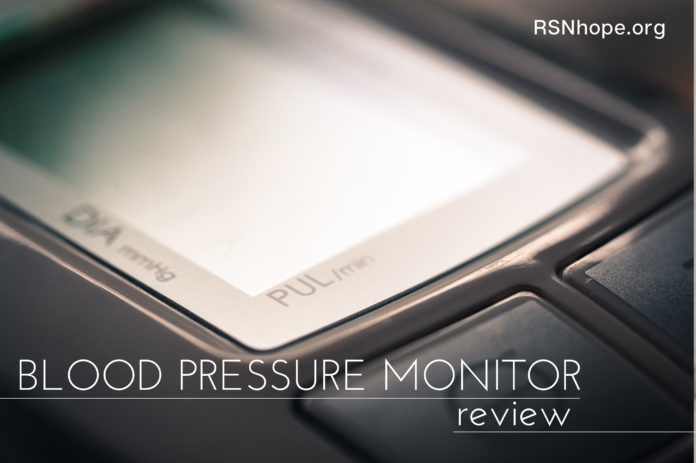 900 million people world wide have high blood pressure (HBP). Unfortunately, if not managed well, high blood pressure is the second leading cause of kidney failure and high blood pressure ironically is one of the most common symptoms of kidney failure.
To get an accurate reading it is best to take your BP at the same time everyday using the same arm because results can vary between arms. BP can be affected my many things such as diet, emotion, and muscle tension to name a few. Owning a blood pressure monitor is a great way to regulate your blood pressure.
Electrical/digital BP monitors are either automatic inflation or semiautomatic manual inflation. The more expensive the monitor the more bells and whistles such as automatic inflation, larger displays, error indicators, reading printouts, built in heart-rate measurement, a large memory that can store many past readings, voice announced readings, and compensation for the effects of an irregular heartbeat.
There are a few factors such as usability and accuracy that go into choosing the right monitor. The British Hypertension Society (BHS) provides highly regarded guidelines to manage high BP and also has lists of BP monitors that scored a "B" or better using BHS protocols. The BHS gave a double "A" grade to the following arm cuff monitors.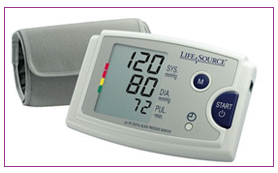 A&D Medical LifeSource Quick Response UA-787EJ ($70) is a top choice with both owners and reviewers for its ease and extended cuff size. It holds 60 readings, has an average reading feature and also measures users with an irregular heartbeat. Lastly it can rate your pressure based on height and weight.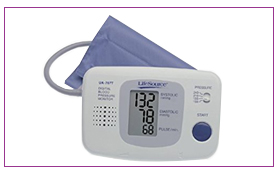 A&D UA-767T ($120) The second monitor is the A&D UA-767T. The American Foundation for the Blind's Access World recommends this monitor because it has voice announcements.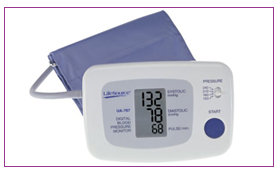 A&D UA-767 ($55) A& D also carries the UA-767 ($55). This monitor has 7.5, 12, and 17 inch cuff to choose from.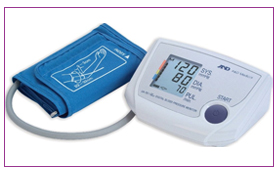 A&D UA-767 Plus ($60) Next is the A&D UA-767 Plus also known as the LifeSource UA-767. It does not have an audible readout though it has a lot of good features. It holds 30 readings for both pulse and BP and also includes the feature for irregular heartbeat.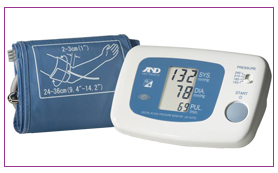 A&D UA-767PC ($220) Lastly, is the A&D UA-767PC.This monitor is very advanced because of its PC interface which transmits data to your doctor over the phone.

Omron HEM Other monitors by Omron HEM were reviewed. The 790IT ($75) is good for users with large arms and can store 60 readings, while the 711AC ($55) and the 712C ($45) tend to have a tight cuff though small and large cuffs are sold separately.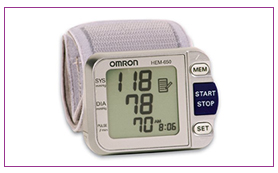 HEM-650 ($40) Omron also makes one wrist monitor the HEM-650 that gets excellent reviews at Amazon.com and Epinions. Some experts say a wrist monitor is not as accurate as an arm cuff but the HEM-650 has included features to secure correct measurements.
To conclude, the A&D Lifesource UA-767 is the best basic monitor with your choice of cuff size. It does not record past readings nor have the irregular heartbeat feature but should work well for most people. If in fact you like an easier cuff to maneuver and a memory function the A&D UA-787EJ would be a good choice.
Learn more about how to manage high blood pressure.

About the Author
Julie Glennon received a successful kidney transplant in 1999 after being diagnosed with both lupus and chronic kidney disease in 1988. She keeps active by volunteering with The Kidney Association of South Florida. She is also a weKAN patient activist and HOPEline operator with the Renal Support Network. Julie and her husband live in Florida.
Article updated 1-6-2011
Web ID 216