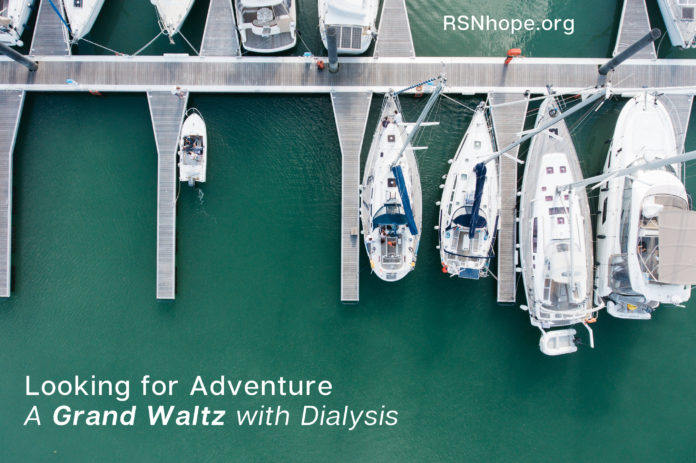 In the summer of 2007, Mr. Intellectual professor-type (no small talk, please!) met Miss Curious warm-and-fuzzy extrovert gal on a 36-foot Grand Banks yacht called the Grand Waltz!
What for?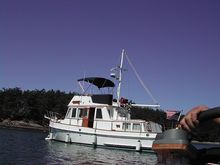 Diligent Captain and Reticent Swabbie 
We were looking for adventure! How is it that this veteran sailor and diligent captain partnered with the "I've only-experienced-water-ski-boats" and very reticent swabbie? We were looking for adventure! If you have ever met Bill Peckham, you would soon see that he truly is a man looking for adventure. One of Bill's adventures this year was to navigate the San Juan Islands on the Grand Waltz, which was fully equipped with the NxStage kidney machine for his daily dialysis.
 I could see that I was in good hands. He gave me some basics like "always hold onto something when the boat is moving."

Dialysis Over Land, Sea, and Air
This was not the first adventure Bill and the NxStage kidney machine have been on together. Bill traveled and dialyzed daily with his machine this last year on a road trip to Chicago with his dog, Cairny, taking in Yellowstone National Park along the way. He has also flown to three destinations with his machine. He can now say that he has been over land, sea, and air with his kidney machine.
The dialysis machine makes it possible for Bill to be here and enjoy amazing things. What does it take? I'd say some courage, guts, and the will to "want to do it." He must not think of the "yes but's," but the "how to's." Watching him causes me to think about things… how I do things… how I get in a rut. I'm not even on dialysis. What things am I letting stand in my way of a life well-lived?
The NxStage Adventure
The 45-minute setup time and all those bags above the machine seemed daunting, but Bill said the bags are much simpler than on conventional machines in kidney centers. Bill stabilized his own fistula vein while inserting the needles, even using his less dominant hand. It looked awkward, but he… well… he "just did it" with no complaints.
"My-oh-my," I thought.
I knew my response would be "different" (that of a lily-livered, rascally coward). Well, maybe I could have mustered it—the payoff was worthwhile. Bill watched videos, read, or slept for his three-hour dialysis stint, and he spent 45 minutes doing the final cleanup after he came off the machine.

A Washington State Paradise
Our adventure began when Bill picked me up from Anacortes on Fidalgo Island, the jumping-off point to the rest of the San Juan Islands in Washington state. Some call this paradise. I would agree as I climb on board and look at the beauty around me. From here, we motor to Friday Harbor, our first stop.
Bill was the most diligent of skippers. Sixteen years ago, he had owned 34-foot and 41-foot boats similar to the Grand Waltz, and he had managed eight others that chartered out. Even if Bill had not told me this, I could see that I was in good hands. He gave me some basics like "always hold onto something when the boat is moving." Later, I learned how to wrap rope around the rail, how to coil rope on the dock, and how to catch the eye of the buoy with a long-handled boat hook when mooring. All boat hands (crew members) must do their part. (One doesn't have to know these things to be on the boats at the Seattle Boat Show.)
San Juan, Here We Come!
Bill was always busy checking the engine, manning the boat, and consulting the maps and charts to get from one island to the next. He also had to make sure the boat did not hit debris, logs, or kayakers. Docking this big boat was quite a job, which Bill performed perfectly every time. He bore all the responsibility of the boat and our travel, while I, the lowly (but oh-so-happy) swabbie, reveled in the beauty surrounding me.
As Bill navigated, I was in heaven–breathing fresh sea breezes, gazing at the sparkling water and incredible sky, watching majestic heron, and spotting whiskered sea otters' big brown-eyed heads before they submerge. San Juan Islands, here we come!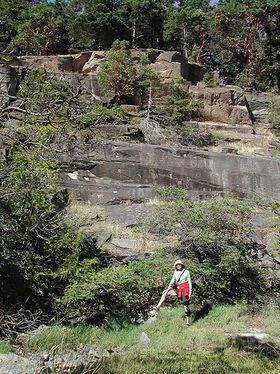 "The Crown of the San Juans" 
From Friday Harbor, we headed to the exceptionally pristine Sucia Island—the Crown of the San Juans (see the author on Sucia island in photo below.) You can easily spend a week here anchored in a different cove each night, hiking a different trail every day, eating on different beaches. Four thousand years ago, these islands were Native American seal hunting grounds.
Kept mentioning that Sucia was beautiful… like a broken record. Bill took the small dingy and dropped the crab pot, baited with chicken and clams. A quick read of the book, How to Catch Crabs, and he was confident our dinner would be forthcoming and plentiful. It was.
No cell phone reception here…. We got into our dingy and went to shore for a lovely walk. I spotted two herons huddled together on a large rock and was awed when one of them took flight, the bird's full-wing span in slow motion.
People seemed happier here. Couples were holding hands, giving you cheerful greetings as you passed. Being away from the stress of everyday life is a wonderful thing.
"Canada Bill"
The next day was again sunny as we headed for Sydney, British Columbia. I learned that, by going to Sydney Island, Canada Bill would be visiting the 21st country in which he has dialyzed. His navigating skills are exceptional. He always stays on track with his map and global positioning satellite (GPS) system for back-up. Hey, I just saw two dolphins off our stern!
Always during our travels between islands, we listened to the VHF radio, which was ever available if someone needed help. I preferred peace and quiet, but it is people like Bill who are there when trouble comes. We just went by what looked like a big rock with a seal on it, but we couldn't focus our binoculars quick enough.
Geese, Passports, and Dialysis
While entering Sydney, we saw lots of birds, including geese flying south only a few inches above the water. We docked, went to a customs building, and were directed to a phone where we gave the required information, including our passport numbers. Then, it was onto the dock and the slip Bill had reserved. He caught up on the Internet while I checked out a gift shop.
We returned to our boat, where Bill prepared for dialysis. I made us salads and cheese and crackers. I was going to take a picture of him, but thought of plugging in my camera battery charger first. Mistake. It caused us to lose power, and Bill had to come off dialysis when his run was only half finished. Bill had planned to have one day off from dialysis, but now couldn't. I felt bad and helpless. But things happen. That's life. When you are "looking for adventure," sometimes you must go to plan B (or even plan C).
"Tally Ho!"
Tally Ho! The next morning, we sailed for Roche Harbor on San Juan Island. Still can't believe I am in such a beautiful environment. Today, I feel the most relaxed. It takes several days to get that relaxed. It is calm and smooth boating with a full sun, so we lather up with sunscreen. Bill is already very tan. This is the life!
We have passed a couple huge container ships along the way, making us feel dwarfed. We just heard on Bill's cell phone from a person "in the know" that the whales are back from the Pacific Ocean. It wasn't long before we "happened" to spot a whale watching our boat and took pursuit—only to discover it went too fast, so we gave up our chase. No spotting of whales on this trip, but that was just fine since I was so enjoying everything else.
"Comedy of Errors"
As we pull into the very busy Roche Harbor, I see a picturesque church, with the sounds of a mesmerizing song coming from its steeple bells. Bill and I toured the harbor with its Hotel De Haro, Sculpture Gardens, and Mausoleum (a favorite… cemetery in the woods). I went to an excellent outdoor Shakespeare play while Bill dialyzed. It was Comedy of Errors (with a western theme). A lot of fun!
I enjoyed my stroll back to our boat, passing all the moored boats with people having dinner, playing cards, drinking wine, and visiting. People seemed happier here. Couples were holding hands, giving you cheerful greetings as you passed. Being away from the stress of everyday life is a wonderful thing.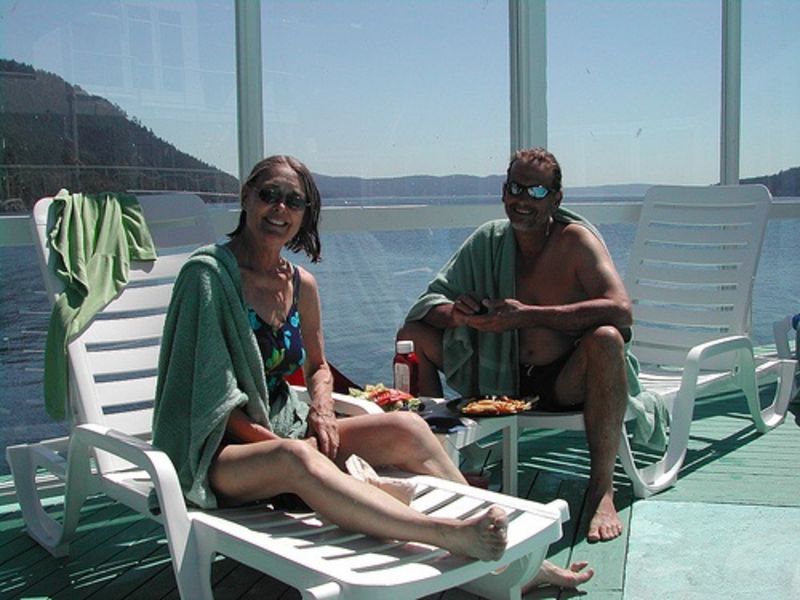 "My Moment in Heaven"
The next morning was again glorious as we journeyed to our last stop at Rosario Resort on Orcas Island (see photo right.) Bill and I used the pools, spa, and fitness center as part of the price of our moorage fee.
In the early evening, while Bill was on the boat dialyzing, I toured the top part of the hotel, which had been converted into a museum. Here I had one of those special experiences that I will always treasure and carry with me. I entered what looked like a ballroom with a beautiful grand piano and pipe organ. It was Sunday, so, instead of the nightly live pipe organ concert, piano music was played over excellent speakers. No one else was around as I sat on a bench attached to the outer wall of the room. Light was filtering through the stained glass window above the grand piano.
I was physically and mentally transported into a dreamlike place as I listened to the lovely music. Worries and anxieties melted away, and I sat spellbound in enjoyment. I relive my moment in heaven when I listen to those piano CDs I purchased later at the gift shop.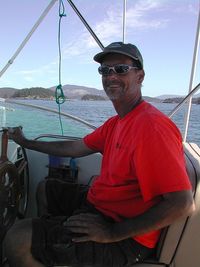 Return to Anacortes 
The next day, Bill and I went back to Anacortes. I would head home, and Bill would continue on for the last leg of his trip, accompanied by his mom and her college friends.
I am a gal who likes adventure, but I had gotten caught up in daily life. This trip reminded me how important adventures are and how important really living life is. An adventure is made up of unknown challenges, and, of course, we had them. But I discovered that it was important for me to step out of my comfort zone and pay the price that an adventure entailed. The benefits far outweighed the cost and gave me unforgettable experiences. I remembered anew that life is a gift, that it is short, and that it is meant to be lived fully.
Bill reminds me that I can venture out and taste, experience, embrace life in spite of everything that sets up roadblocks. I don't have to give in. My "adventure" might be as simple as going to the grocery store after major surgery, taking care of grandchildren when I'm not sure how well I will do, or going and doing something I have not tried before.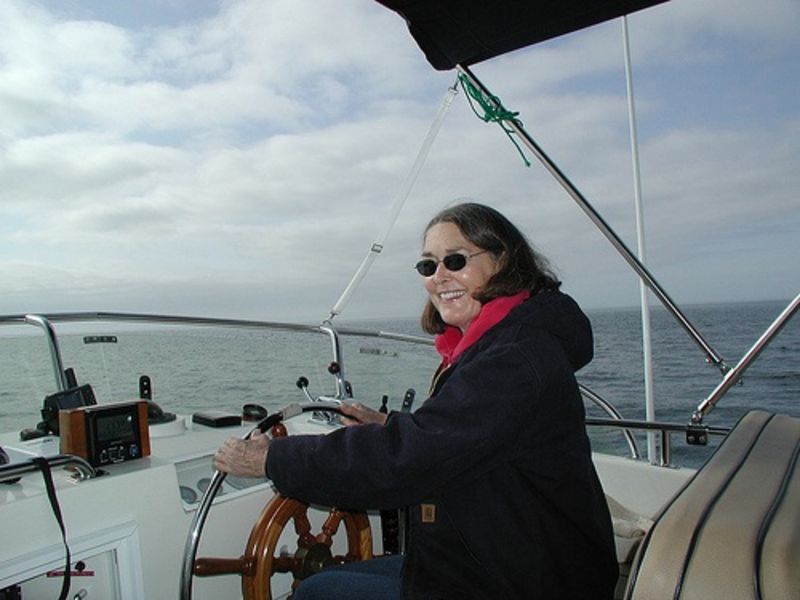 Conclusion
Are you living well or just living? Where in your life are you looking, and where are you open for adventure? Start small, but do not let this week go by without trying something adventurous. How about a new recipe?
Thank you, Bill, for asking me on this adventure with you and for inspiring me to live life to the fullest, which, to me, includes "looking for adventure."
About the Author
Sharon Pahlka is a life coach in Seattle, WA, specializing in helping those with chronic health challenges live well and meaningfully. She spent 19 years on hemodialysis and has had a kidney transplant for the last 14 years. To learn more and read some of her other articles, visit her website at: www.lifeisagift.com. Her traveling companion, Bill Peckham, is a weKAN Patient Advocate for The Renal Support Network who has undergone dialysis since 1990. He serves on the board of trustees of the Northwest Kidney Centers (NKC) in Seattle, WA, and is a recipient of NKC's prestigious Clyde Shields Award for making a significant contribution to the welfare of kidney patients. Bill is also believed to be the most widely traveled dialysis patient in the world.
Web ID 331