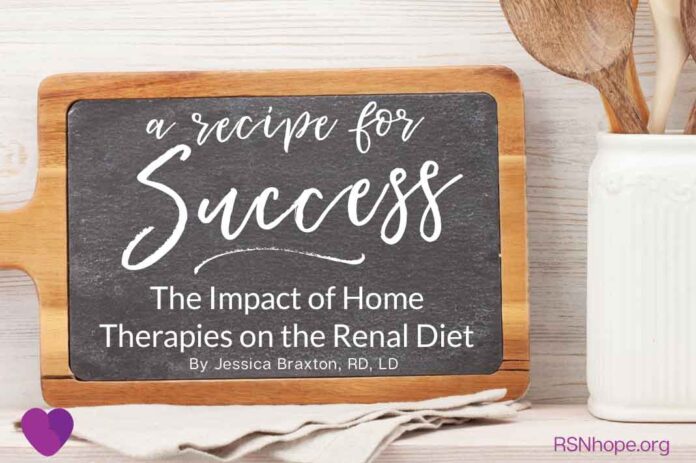 "Isn't it better to focus on what we can have, rather than what we can't?"
That's advice I share with my patients all the time. While it can be a challenging mindset to adopt, especially for patients on dialysis, I find this statement helps patients keep a positive outlook when it comes to maintaining a healthy renal diet. Mastering a renal diet is an important part of treating chronic kidney disease (CKD) or end stage renal disease (ESRD), and while diets for individual patients are tailored, home dialysis patients often enjoy a diet with more flexibility.
While a normal kidney works 24 hours a day to clean blood, dialysis patients have their blood cleaned only when they receive dialysis. In-clinic patients are typically dialyzing about 12 hours a week, while home patients typically dialyze more frequently at home, based on their prescription. When dialysis treatments are performed more frequently, it can free the patient from certain restrictions in their diet.
There can be more freedom in the renal diet for home dialysis patients if there are no other health issues and if the patient completes their dialysis as prescribed. There are three common dietary benefits for patients using home dialysis.
Potassium Intake Increase
Potassium, an important mineral that helps regulate heart rhythm, is not limited for many home patients. For in-center patients, it is a common challenge to keep potassium levels balanced. For home dialysis patients, due to increased time dialyzing, patients can generally increase the amount of potassium that they eat. For those who can enjoy more potassium, I recommend that they incorporate foods such as potatoes, sweet potatoes, tomatoes, bananas, avocados, and orange juice. But keep in mind, it is important for patients to stay in close contact with their doctors and dietitians to adjust their diet when needed.
Protein Intake Increase
Protein creates a waste called urea, and for many in-center patients with ESRD, the body has trouble removing urea. For home patients, more frequent dialysis treatments typically allow for more protein intake, as the body removes urea more often. Home dialysis patients may be allowed to enjoy more red meat, poultry, and fish. As always, it is important for each patient to follow their doctor and dietitian's recommendations.
Eating at Home
Home dialysis also gives patients more flexibility with their schedules and that can positively impact the diet. They may have more time for meal planning and the ability to eat meals in the comfort of their own home. This can be particularly empowering for patients when it comes to enjoying celebrations around the holidays.
It is important for dietitians to continue to find alternatives for all patients in order to accommodate what they love to eat. Dietitians help patients modify recipes and find ways to incorporate favorite foods, specifically around holidays. For example, at Thanksgiving, my patients have loved making a kidney-friendly pumpkin strudel in place of a pumpkin pie. I encourage all dialysis patients to stay in close contact with their care teams when it comes to creating the best renal diet for a healthy life.
Jessica Braxton, RD, LD, Registered and Licensed Dietitian is the Lead Dietitian of the South Georgia Region at Fresenius Kidney Care. In this role, she supports the delivery of excellent nutritional care to patients by providing direction, guidance, and assistance to facility dietitians in the South Georgia region. Jessica also serves as the Chair of the Nutrition Service Advisory Board for Home Therapies for Fresenius Medical Care North America.
Web ID: 4035