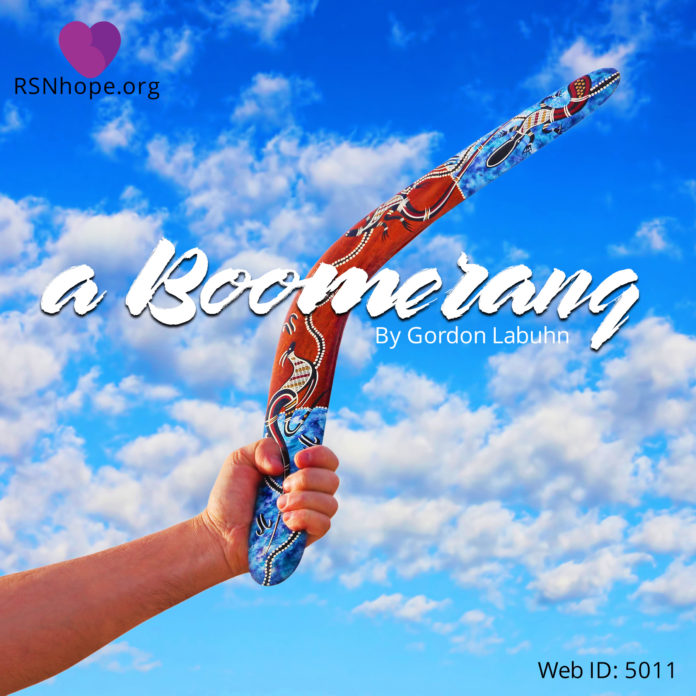 A boomerang is simply a curved piece of wood engineered to ride the air currents. Learning how to throw one only requires a brief time. With minimal throwing practice a boomerang will sail into the sky, swing into a 180-degree circle and return to the person who launched it. A boomerang is fun to throw and a pleasure to watch. By its very nature, a boomerang touches the hearts and minds of those who watch, instilling a desire to participate in throwing demonstrations.
One's attitude toward life is like a boomerang. What you give away is what you receive back. Within this finely crafted simple piece of wood can be found the lesson that kidney disease is only another small step into greater maturity. Some old habits and experiences are set aside as new adventures appear and make our lives richer. How do I know this? I'll tell you.
We all have a boomerang, a persona that others see and feel. Every time we talk with another person we throw out our boomerang announcing who and what we are inside the mind.
A metaphorical boomerang flew into my life forty-eight years ago when I was thirty-six years young, full of vim and vigor, and in my employment heyday. A friend asked me to visit his mother, Thelma, a paralyzed elderly lady in a nursing home. I promised to visit her, but I didn't want to. I postponed the visit several times. Twice I sat in my car in the nursing home parking lot convincing myself that it was not a good time to visit. Heavily laden with guilt, I finally fulfilled my promise. The old lady lay facing the wall. She said, "Hi, sweetie! Would you please pick up my head and turn it so that I can see you?"
I shivered in spite of the afternoon summer heat. I wanted to say something, but my tongue was pressed tight against my dry palate. It took every ounce of my will power to comply with her request. How could life be so cruel? How could anyone be totally paralyzed and maintain any semblance of being alive? I felt ill, sad, upset and angry that anyone had to live like this.
Surprise–the old lady gave me the biggest toothless smile I'd ever seen. Her blue eyes sparkled. "You're a handsome dude," she said. Then she added, "Would you please take my teeth out of the cup on the night stand and hand them to me,?" She giggled like a teenager on her first date.
I finally unfastened my tongue and said, "Yes, ma'am."
Spontaneously she blurted out, "Oh, my! Handsome and polite too. This is my lucky day. What's your name, honey?"
Until this moment my day had been fraught with weariness and irritation over my secretary making a foolish mistake. Additionally, I was perturbed that I had agreed to come and visit this charming lady. However, my visit was like being swept up into the heavens to have a glorious view of joy, happiness, and eternal pleasures of being alive. She was like a genie in a bottle, bubbling over with cheerfulness, humor, and enthusiasm. I wanted to be like Thelma. We talked and talked. I hadn't wanted to come but now I didn't want to leave.
What does this have to do with people on dialysis or a boomerang? It's really a simple concept. People who are on dialysis experience loss of physical stamina, abilities, and two to three days a week of their precious time. We all have a boomerang, a persona that others see and feel. Every time we talk with another person we throw out our boomerang announcing who and what we are inside the mind.
When the paralyzed old lady threw her boomerang, it encircled me. Her persona touched my heart. I had a new perspective of my life and began to bubble like she did. Her boomerang returned to her, reinforcing the foundation of her life. We bubbled together for a year. I visited her when I had joyful news, was in need of encouragement, or was passing within a few miles of the nursing home. I was one of her "sweeties" and she was one of the loves of my life even after her boomerang flew to the heavens for the last time.
My positive attitude is more powerful encouragement to others than anything that I can say. My attitude toward life is my boomerang. When I throw it, my joy of living is shared with others, then my boomerang returns to me and my heart is filled with satisfaction knowing that I have helped others with kidney disease reclaim their life. Thank you bubbling friend, Thelma.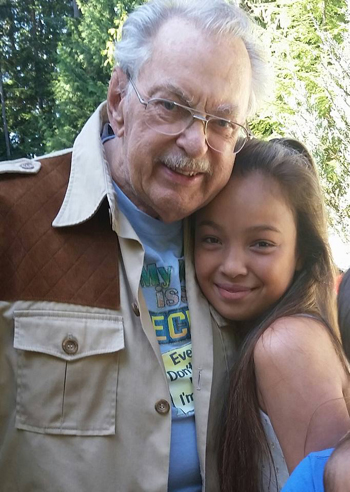 Gordon Labuhn receives dialysis at Puget Sound Kidney Center on Whidbey Island. He is retired from active employment of thirty-five years in the health profession. Gordon is an outstanding example of life during and after major health concerns. In addition total kidney failure he has  four stints and fourteen by-passes for heart disease. He daily functions with one damage rotator cup. He is active in a writing group, reads scriptures at church services, annually travels, is active in the yacht club, and goes canoeing. He and his wife, Karen, have three children: David, Kevin, and Ashley, and one deceased son, Gregory. Gordon says, "Life can be simple, and there is beauty in simplicity."
Web ID 5011