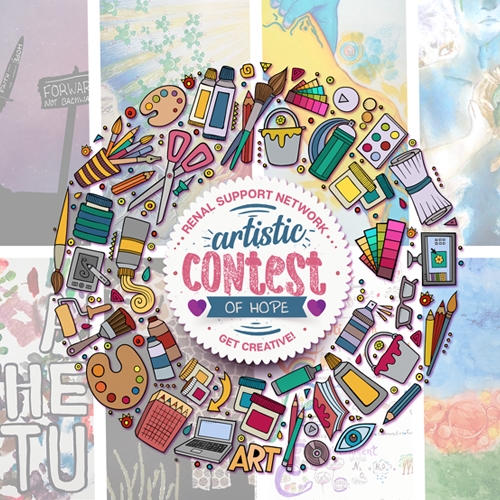 Please Read the Art Contest Official Rules Before Submitting Your Original Artwork
HOW TO ENTER: Compose an original piece of artwork, either traditional (non-digital) or digital. For inspiration, think of something that falls into one of the following categories: Mixed Media Collage, Scrapbook Collage, Watercolor painting, Oil or Acrylic Painting, Finger painting or Colored Pencil/Pen/Ink drawing or digital photography. Video submissions do not qualify.
People of all ages and skill levels may enter the contest. Any type of entry is acceptable as long as it reflects the theme, "Living in the Moment a Joyful Expression of Hope."
Entries may be submitted digitally via the RSN's Artistic Contest of Hope webpage by 12:00 PM (PST) on Wednesday, April 20, 2022.
Prizes: Prizes for each individual category are 1st prize $500, 2nd prize $300, 3rd prize $100.
For consideration as an entrant, you must fall into one of the following categories:

Adult who has Chronic Kidney Disease (CKD)
CKD Pediatric patient (youth under the age of 21)
Caregiver/Family Member of CKD patient
Living Kidney Donor
Entries must include: Contact information, title, artwork medium, size, artist name and description of the artwork.
Limit of one entry per person.
Winners will allow Renal Support Network (RSN) to use their original artwork on our website, social media, video, in print, and other medium forms with the artist's name attributed to their work.
RSN may request original winning artwork to be scanned for high resolution printing. RSN will send winning artwork back via priority mail.
All entries must be received by 12:00 PM (PST) on Wednesday, April 20, 2022.
HOW ENTRIES WILL BE JUDGED: All art submissions will be judged on the basis of the following criteria:
30% – Appropriateness to the contest theme
30% – Originality
30% – Creativity
10% – People's Choice Votes
In the event of a tie, the entry with the highest originality score will be selected as the winner. The winner will be notified by phone and/or email. Image quality matters, please make sure your .jpg file meets the requirements stated on the upload/entry form.
The winner will be notified by phone and/or email.
GENERAL RULES:
No purchase is necessary, but you must have been diagnosed with chronic kidney disease (CKD), be a family member of someone with CKD, a caregiver, living donor and live in the United States. It is void where prohibited by law. Employees of RSN or of agencies advertising and promoting the contest, their immediate family members, and/or those living in same household are not eligible. No substitution or transfer of prize by the winner is permitted. All federal, state, and local taxes are the sole responsibility of the winners, and all federal, state, and local laws and regulations apply.
The winners must execute an Affidavit of Eligibility/Release of Liability and Publicity within 7 days after receiving it, certifying that the entry is his or her own original artwork. Noncompliance within this time period may result in disqualification and the selection of an alternate winner. A parent or legal guardian must sign the required paperwork on behalf of a minor.
All entries must be original works that have never been displayed in a gallery or published in any printed art materials or displayed in any digital forums and must not infringe on any third-party rights. By entering the contest, the entrant gives RSN the right to use, edit, and publish the entry without further compensation. The winning entrants will retain copyright of their artwork, but will sign a document to release license/usage rights to RSN.
Those who enter the contest and/or accept a prize grant permission to sponsors and their agencies to use the winners' names and/or likenesses for purposes of advertising/trade without further compensation unless such use or permission is prohibited by law. Prizes are nontransferable. By accepting a prize, the winner agrees to hold RSN and its directors, officers, employees, and assignees harmless against any and all claims and liability arising out of the use of the prize. The winner assumes all liability for any injury or damage caused, or claimed to be caused, by participation in this promotion or by the use/redemption of any prize.
Entrants agree to be bound by the Official Rules as stated here and the decisions of the judges. RSN is not responsible for any typographical or other error in the printing of the offer, the administration of the contest, or the announcement of the prizes.
The winners' names and artwork will be announced in the press release and at the virtual awards ceremony.